CHABLIS GRAND CRU VALMUR 2009 in magnums to be decanted before serving
This prestigious climat, one of the seven Chablis grand crus, stretches across just over 13 hectares. It is located in the middle of the hillside. Its valley location gave it its name and a range of plots provide it with a variety of aspects and soil types which, within this tiny area, provide a great diversity in the wines from this appellation.
The vines grow either in averagely thick well-drained soils, or on very shallow, wet soils on marl limestone, depending on their location on the hillside.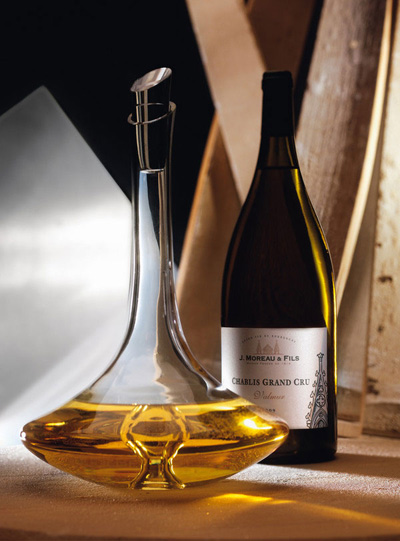 Haute-couture winemaking
Vinification at J. Moreau & Fils is adapted to the specifics of this complex terroir. The grapes from the 2009 vintage were harvested on 22 September, slowly pressed, left to settle and the larger particles removed. Alcoholic fermentation began in stainless steel vats with the addition of selected yeasts, and then 10% of the musts were put into barrels of between one and three years, selected for their fine grain and subtle oak. Alcoholic fermentation lasted for 10 days, in stainless steel and barrels, and the malolactic fermentation began in mid-October, lasting around one month. The wines aged in oak were stirred weekly and part of the wine in vats was stirred bimonthly. The wine was racked off in April 2010, with the wine in vats lightly fined before bottling in May after six months of ageing.
Tasting notes for a wine to be decanted
This wine is at its best today and decanting will bring out its exceptional length and unusual character.
Decanting a great white wine oxygenates it, allowing it to express its character more quickly. The carafe brings out the tertiary aromas from its subtle ageing in wood.
This wine, hand-crafted by our winemaker like a precious gem, has a dazzling gold color.
On the nose, its complexity comes out with mineral notes with a whiff of smokiness and undergrowth, which then give way to wafts of citrus mingling with hazelnut.
In the mouth, it is dense and highly structured, with a perfectly balanced acidity. One is transported on a gustatory voyage through notes of mango and sweet spices such as cinnamon, before it reveals a persistent smoky finish reminiscent of roasted almonds and white blossom.
The J. Moreau & Fils anniversary magnum should be enjoyed along with a befittingly sophisticated dish with similar flavor tones – line-caught sea bass perhaps, scallops or even pike. For a Burgundian twist, try it with springtime frogs legs or accompanied by a creamy, powerful cheese such as Epoisses or Langres. This expressive grand cru brings out the multiple aromas of these traditional dishes. Its aromatic complexity, rounded notes and touch of acidity would also make it a heavenly partnership with Asian cuisine such as flavorful Japanese eel sashimi, seafood makis, Peking duck, and any other spicy or sweet-and-sour Chinese cuisine.