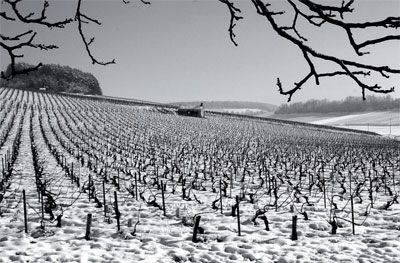 Four years of more subtle, more feminine and more authentic wines

Not just a make-over, but a root-and-branch overhaul of working practices: a strong involvement in the vine, combined with greater input on the style of wine from an uncompromising tasting committee has hoisted the brand up their with the greats.
120 hectares of selected vines. Partnerships with winegrowers
The specifications, revised every year, include several clauses concerning the vine and vinification. This is the essence of the work as viniculturist.
Winegrowing
Monitoring of the plots is done by Lucie Depuydt, the viniculturist at J. Moreau & Fils, supported by the advice of Denis Dubourdieu, eminent international specialist on white wines for 30 years. A strict charter thus allows the grapes to be monitored as closely as possible to determine with the partner growers the optimal date for harvesting for each plot from tasting grapes on the plant.
Vinification
The viniculturist is on hand for each pressing to follow the vinification of each cuvée.
The five sages of the tasting committee
Guarantors of the style of Moreau wines, three women and two men pool their expertise to craft cuvées that respect the house style (ageing, blends, date of bottling, and so on):
Pascale Brès, director of the Maison and guardian of the house style.
Lucie Depuydt, the young viniculturist and enologist brings a contemporary vision to the wine.
Patrice Eynard, the house's "memory" with 26 years' experience, who acts as a counterweight.
Valérie Lavigne, passionate enologist and associate of Denis Dubourdieu, monitors the development of the wine with pinpoint accuracy and a fine-tuned palette.
Denis Dubourdieu, this high-flying consultant enologist drives the advances in techniques, thanks to his vision as an outsider trained in the notions of excellence scientific rigor.
The J. Moreau & Fils style – like a modern woman who knows what she wants and isn't afraid to take it
It's all about the art of combining opposites. Paradoxical wines that sing in harmony. Between terroir and the expression of the fruit. At once structured and textured, but with vivacity and minerality. Accessible in their youth, but with ageing potential. Subtlety and elegance, but also the character of their noble roots.
The beating heart of Chablis
- Petit Chablis
- Chablis
- Chablis Premier Cru Vaucoupin
- Chablis Premier Cru Montmains
- Chablis Premier Cru Mont-de-Milieu
- Chablis Premier Cru Vaillons
- Chablis Premier Cru Fourchaume
- Chablis Grand Cru Valmur
- Chablis Grand Cru Vaudésir

- Chablis Grand Cru Les Clos
Press contact


actuelles communication
Nathalie Bergès-Boisset

Véronique Desmazures
10 rue de l'Egalité 21700
Nuits-Saint-Georges
(FR)Phone : +33 (0)3 80 30 14 30
www.actuelles.biz

@actuellesRP