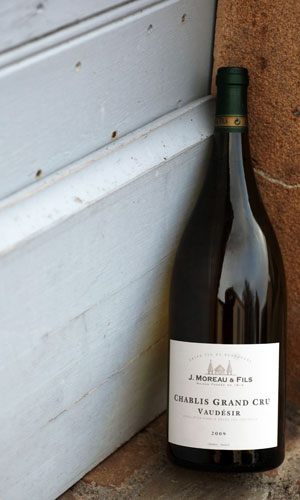 Chablis excellence in magnums

In 2014, on the occasion of its bicentenary, J. Moreau & Fils presented its anniversary cuvée in magnums*, a Chablis Grand Cru Valmur 2009. Since then, it has been offering its very best vintages in this format as the perfect volume to allow the wine to blossom and reveal its aromas.

The wines of Chablis may be ideal for enjoying in their youth, but they also age with panache, retaining all their crispness. For its most promising vintages, the maison has decided to bottle a percentage in magnums in order to best preserve the wines' ageing capacity. Reducing the surface area in contact with the air ensures the wine evolves as slowly as possible, and preserves all of its aromatic potential.
The Grand Crus of Les Clos 2000 and 2003, Valmur 2003 and 2014, Vaudésir 2009, and the Chablis Premier Cru Vaillons 2007 are all available in magnum to delight lovers of Chablis wines.
Chablis is probably the best-known white wine in the world, yet it is a terroir that defies winegrowing! It's the most northerly area of the Bourgogne winegrowing region, next door to Champagne, and an area that is hostile to winegrowing with its harsh and capricious climate, its contrasting relief, and steep, frost-prone hills. Humidity is omnipresent during the key periods in the growth cycle, and the diseases that brings are a constant threat. However, its northerly location is a real advantage for those who can tame the land on this cuesta of Kimmeridgean limestone that makes the wines so special.
For the past 10 years, winemaker Lucie Depuydt and expert in this land, has drawn from the terroir the very essence of her wines. These are paradoxical wines, all about harmony between the land and the expression of the fruit, between structure and texture, and also between crispness and minerality. They are accessible in their youth, but also offer strong keeping potential. They are subtle and elegant, but also bear the character of their terrestrial heritage. Their style is all about complexity with a whiff of smokiness.
Discover our press release.